I think I'm starting to figure hobos out. A while back I got used to the normal scams, like the old "My car broke down, I need some gas" bit at the station. But after getting asked for my Metro ticket after I got off the train today, I realized that several things make the chance of me getting asked for dollar skyrocket or tumble.

1. Glasses. The logic must go like this. Every person with glasses must know, deep in their heart, some form of rejection by society. Even if it's a fleeting fourth grade yell of "FOUR EYES!" So, obviously, when I wear glasses I look like I can identify. That or I spend too much time looking at a computer, which makes my eyes go bad, and I have to put on glasses to count all my money. Good theory, but glasses are now for cheapasses like me who don't want to buy contacts at their ridiculous prices.

2. Cell Phone. This one is more of an off the beaten path move. The logic is, if I'm carrying a cell phone, interrupting my call results in annoyance, which makes me just want to get rid of a hobo with a buck. It's like a cell phone tax. That, or they know I'm talking to a girl on the phone and of course girls are going to swoon when I throw money around like Uncle Pennybags.




3. Sign Language Shirt. I picked this up at unique thrift awhile back and let me say it comes in handy. Not just because I'll be at a bar and some stranger will start gesturing at me like they're flashing gang signs. Then I'll realize they're signing "HELLO," thinking I'm deaf. Then I have to break it to them, no I can hear, I just like the shirt and try to raise awareness. Lately I've been thinking if a bum comes up to me, I'm going to play deaf. But then again, that's what I always do.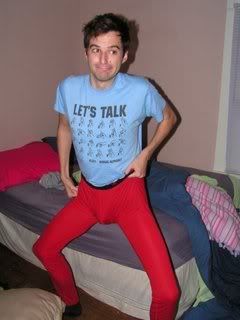 4. B.O. This one is obvious, but I thought I would include it. If I'm already on the train, however, no one can tell because I'm just some more stink lines in a closed space with already too many stink lines.




5. Cassidy (or another person). This happens a lot, really good panhandlers know that if they approach a group, they can play on collective guilt. For example, I saw some 6'-plus lady in a giant cape and black hat talking to a couple women. One was handing over a $5. I thought to myself, of course she's not going to admit to her friend that she doesn't ever give to charity. The way I see it, the lady in the cape was helping the other girl sleep at night for a mere $5. Like a drug company!




Now, I know some of you are thinking "What an asshole, I always give them money." Ok, well that's fine and all but I'm not a fan of cash money. Oftentimes people have drug or alcohol problems, and there are places here that'll take them in and give them whatever they need, not just money but job assistance, rehab, etc. In my nonprofit class, we talked about Larry Rice and how many poor people don't want to pay the price of going to church. Ok, that's fine, but there are other places too, like the Salvation Army and the St. Patrick Center. If you do help them with money, I'm not condemning it, but really, sometimes people need other things just as badly.