So my bro gave me his old laptop, with the reasoning that "it's slow." Well, computers aren't like people, they don't lose processing speed as they get older. What happens is you install this, or click ok to this box and soon enough things start getting bogged down. The point is, the computer isn't that bad, and since I was actually considering buying one just like it, it's a done deal. It's a tablet PC, which means you can swivel around the top screen and snap it over the keyboard, then use a pen to write on the monitor like a notebook. It's convenient at work since I make a sketch for people now and then.

The point is, when I get a new computer, some things happen. One is, once I clean the thing up I start bogging it down with some programs that replicate old video game systems like the NES, SNES, Genesis- even one for the Apple //e computer and one that handles arcade games (MAME).

Now that's where the fun comes in. You can come across crazy versions of old classics like Zelda: Outlands or games we used to play in school like Lemonade Stand. But my favorite of any game right now is a little game called "Bullfight."




Anybody who knows me knows that someday I want to fight a bull. Sorry if you think it's animal cruelty, but if being cruel to animals is this pretty than PETA can just tar and feather me now. Just look at the title screen. Back in the day when one genuine American quarter dollar piece got you in on the action, here's what you got.




You have two buttons. One aims your cape, the other delivers the heat. The obvious strategy is to stay in the center of the stadium, and to be cautious but not too much so.

The first bull is for little kids and beginners. That's not to say I don't have some fun with Charger. Yeah, that's right, I give my bulls names. It doesn't make it any easier when I dispose of them, but when they take me out I have a name to salute. Basically, my strategy for Charger is to wait for him to approach, then slice IN FRONT of him rather than away. Then I drop the hammer. Dangerous, and daring, but I still only get 3200 points. I think the crowd loves it more though, and it's all about the show, right?




Now onto the second bull, Papa San Cristobal. This guy has a temper, and you can usually use that to your advantage. He is very strong, too, and sometimes he can even manage to pop your dagger out from his own back by relying on the strength of the Lady of Guadalupe.




Luckily, the town is on your side, as they give you a second dagger and you can finish your deed and move on to Poquita, as I call her, the third bull. She's gorgeous and it's definitely a misnomer and this is where my bullfighting career usually ends. How this happens is the old arcade two-step. Step one, a murder.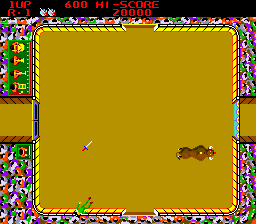 Second step: eight letters, two words.




Now sometimes you get lucky, sometimes your little compadre comes running in from the gate because he just can't bear to see you get flung out of the stadium. I like this guy, he's got style.




But, the bulls, they have friends too. The fourth bull, Hector the Terrible, has a friend that I haven't even named yet, Bull X. I've only seen him once but I have this shot of the two of them together right before they took my life. Check this out. I think Hector the Terrible and Mr. X make the stadium look like the bathroom stalls at a Mexican restaurant, if you know what I mean.




And of course, as in any game you put in your initials when you get the high score. And if you have cojones, like me, you put a dirty word in.




But, if you notice, this game has cojones too. For the cabron in all of us, there's the kissing lips instead of a letter. What a game.